3 PR Tips Revealed by Industry Professionals
Recently we hosted PRLab's third Breakfast meetup, where Industry Professionals shared their exclusive PR tips about earned media, influencers, and B2B marketing. Here we have gathered the main outcomes of our discussion - read this blog & grasp new valuable PR insights!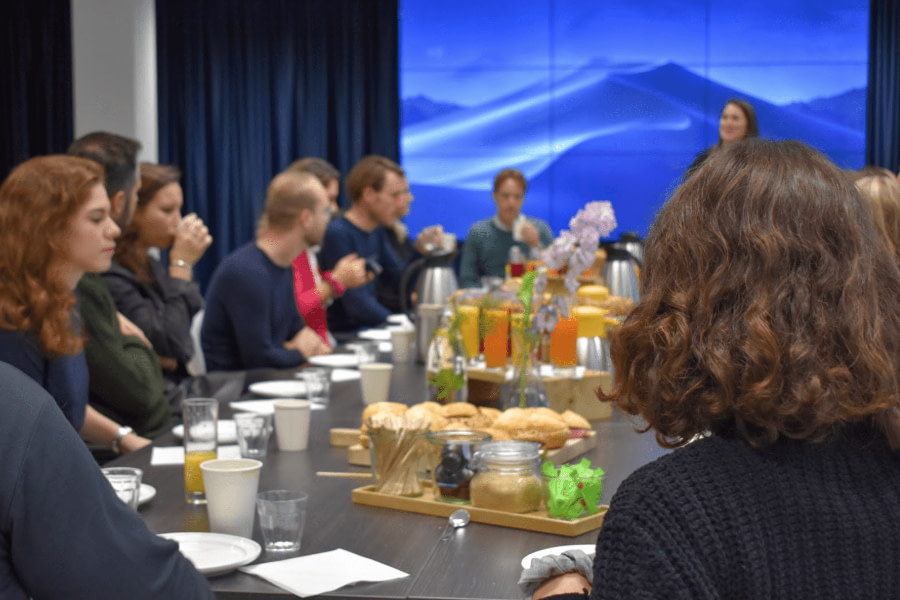 We're moving away from earned media
A common accomplishment in the room was moving away from earned media. Earned media is a type of media that gains attention through promotional efforts. If people are genuinely interested in your company won't have to chase them, they will be chasing you. Create a good enough product or a compelling enough story, and the journalist will come knocking on your door.
For example, Fairphone shared how they are constantly being mentioned in the media, specifically podcasts, with or without asking for attention. Fairphone is a phone designed to create as little environmental impact as possible. The battery is replaceable so when that dies on you, you can just get a new one. No need to replace the whole phone. It is an innovative sustainable product that no one else has done, making it a great topic to cover.
Influencers can create authentic connections
We have all seen influencers taking over our screens, wearing or representing brands that they're trying to sell us. But what are the secrets behind successful influencer marketing? Ilaria Severi, the Marketing and Communications Manager of Creative Clicks used to work in influencer marketing and stimulated great conversation on the topic. The industry is fast-moving and there is an overwhelming amount of influencers for every audience. The key is finding the right one for you, of course. But the key is finding someone who will represent and connect with your clientele authentically.
Quint Dekker, the PR Manager of Sony, while sharing his PR tips, was honest about his personal experience with influencers. They work with influencers a lot and the one thing that they have taken away from this experience is the importance of creating a trusting relationship. Each person is different and it's no use to just know about their social media presence. Sony values forming a bond with their influencers above all else. As Sony has a product that is widely used (or needed) by influencers, they can send out samples without having to push for a good review. They create a relationship through the product so they don't work with your competition a week later. You should be training your influencers the same way you train your employees, they're working for your company after all.
B2B requires a different PR approach​
Diving from topic to topic, it was natural that B2B marketing was going to arise. With B2B, transactions come at a larger price tag and one needs to minimize risk. Attendees shared their bumps in the road.
There is nothing too sexy about B2B marketing so it can prove to be a difficult fleet. Even if the product is a "hot topic", selling it to a business must take a different angle. With a few press reviews here and there, they tend not to focus very much on Marketing. They sell a good product, the word gets around and businesses come there a way to find out more. Remy Ludo Gieling editor and chief of Sprout, a magazine specializing in startups, scale-ups and f*ck ups, shares that a good press is always stories in a magazine, whether that be a compelling product or management related experiences.
The conversation slowly shifted from a public discussion to intimate conversations. Some dived deeper into topics and PR tips, and some just got excited about the weekend, but everyone lingered, talking for a while. The breakfasts are truly a great place to meet new people and relax in an intimate setting, and who doesn't love complimentary coffee bright and early. The PRLab Breakfast is an excellent way to meet your peers and hear about their challenges in the field. If you think you would be a good addition to conversations such as these, apply to be a part of the next session through the form on our Breakfasts page. A big thank you to Epicenter Amsterdam for hosting this incredible breakfast in the perfect environment. Don't forget to sign up for our newsletter to stay up to date on exclusive tips like these.