How to Create Content at Scale: Digital Meetup Recap
On July 29th, PRLab hosted it's Digital Meetup about Creating Content at Scale. Our guest speakers Gijsbregt Vijn and Jan Jelle de Boer shared their unique approach to the process of Content Creation in a cost-effective way. Here are key takeaways from their presentations: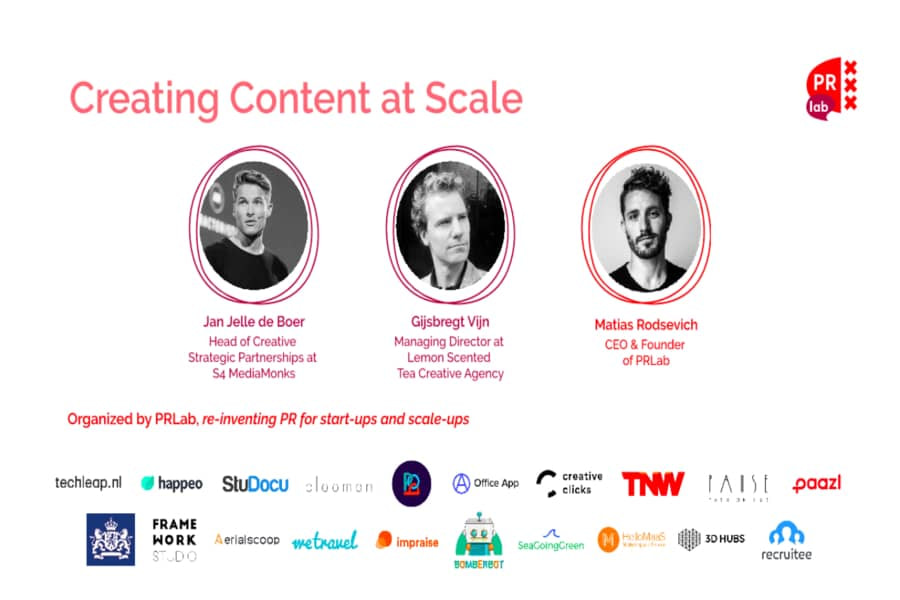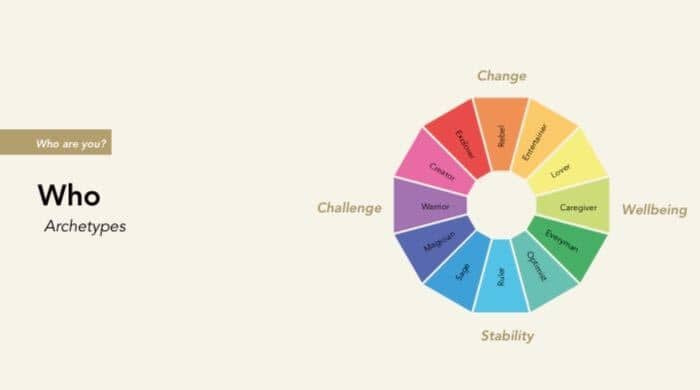 Gisbregt Vijn: The Brand Hero Approach
Specializing in creative storytelling, Managing Director at Lemon Scented Tea creative agency, Gisbregt Vijn shared his agency's methodology of creating a brand with a power of story using the example of their collaboration with Veloretti, the Amsterdam-based e-commerce bike brand. To start with, there are 5 crucial stages in the process of identifying your own brand story: Who, Why, What, Where & When, and How.
In order to identify the Who of your brand, Gisbregt suggests using Brand archetypes, examples of which are Explorer, Creator, Caregiver and Entertainer. Identifying your brand archetype will not only help you formulate your brand's purpose, but also provide a better understanding of your target audience and choosing the right communication strategy.
When setting your communication goal, it's crucial to outline Why you tell a brand's story. Here you can use the power of story to find your unique brand goals. Going back to Veloretti's example, the brand marketing challenge was identified - to increase awareness and sales in other European countries.
Identifying your brand's archetype and goals as well as analyzing its potential marketing challenges help you move on to the What stage, where you create your brand story. Lemon Scented Tea creative agency has developed a Brand Conflict model, which combines all these findings into developing the overall storyline of your brand by creating relevant sub-stories.
As Gisbregt Vijn mentioned in his presentation, the Where & When part entails telling your story in an effective way using the right narrative technique throughout the entire customer journey. One of the ways to do it is to use story mapping throughout time, media, channels and touchpoints for each target group. For example, you can maximize the impressions by preparing short teasers, asking influencers to spread your story or using cross-selling and upselling techniques.
Finally, the How stage is all about executing your story in the right way. Here are the 4 elements of successful story execution, offered by Lemon Scented Tea creative agency, which you can easily use as a draft model for your company: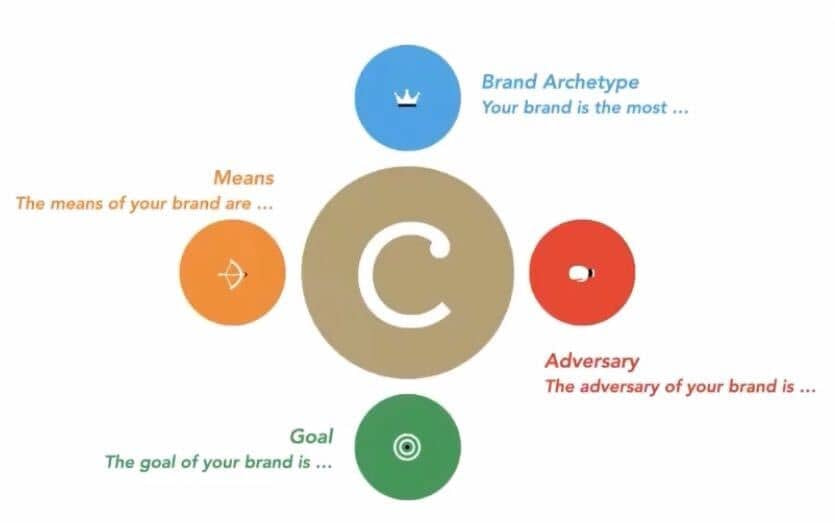 Jan Jelle de Boer: Integrated production
Jan Jelle de Boer, Head of Creative Strategic Partnerships at S4 MediaMonks, opened up the discussion by shedding light on one of the topical issues of contemporary advertising and the way we perceive it. Today we are approaching creativity and advertising like we did years ago - making a linear traditional film instead of implementing something brand new. We've taken an interactive and innovative medium and made it revolve around linear and traditional formats, failing to unveil the potential of up-to-date technological advancements. According to Jan Jelle, breaching the gap between creativity and media channels should be the main focus of the advertising industry today. Here are 3 principles on how to fill this gap, both from a storytelling and content production perspective.
1. Creating a fit for format content
Creating a fit for format content entails optimizing the content for a particular platform or medium, which in turn boosts the creative efficiency of the content. In his presentation, Jan Jelle guided us through the process of how they improve their content's creative efficiency at MediaMonks :
Firstly, they work with a brand strategy and big ideas, which includes using real platform insights and matching it with natural user behavior. Collaboration between Media Monks, L'oreal and Facebook on launching a new L'oreal brow makeup line in Italy can serve as a great example here. Taking the rule of 1.7 seconds to catch the audience's attention into the account, they asked beauty influencers to participate in the campaign in a very engaging way - by sharing very short videos of their eye-brow beauty routine.
In Addition, Jan Jelle pointed out the importance of experimenting with new formats, which MediaMonks adapted during their partnership with Netflix and Google by combining the up-to-date Google Lens technology with traditional media. Having implemented Google Lens interactive tool into a print ad for the first time ever, they allowed the New York Times readers dive into the Stranger Things adventure world right from the newspaper page. The technology is beyond simple: just by scanning the ad through Google Lens app users could access an exclusively designed virtual reality and feel the part of something truly special. The campaign brought enormous results, leading to 2,400,00 impressions in New York Times.
2. Dealing with a constant need for content
In order to create content at scale, you need to consolidate your production efforts. You can reach this by applying an integrated approach to content production, which will maximize your content output. Integrated production means one shoot, one budget, one production process, multiple pieces of content. Here Jan Jelle refers to the project that the team at MediaMonks has worked on together with IKEA Netherlands: they generated creative ideas per touchpoint and used one single production platform to display all these variations of content: tv commercials, photography and youtube pre rolls, animated gifs.
3. Moving towards different narratives
It's crucial to remember that your consumers are not targets - your goal is not to make them feel stalked and aggressively targeted, your goal is to make them feel heard. That's why, instead of creating personalized panic, you should carefully analyze your audience and understand their actual needs. Jan Jelle shared the strategy of creating a personalized experience with us:
Audience signals - Identifying who your audience is
Behavioral signals - Finding their position in the digital world
Environmental signals - Exploring their position in the physical world
One of the ways of identifying these signals is by generating different pieces of content based on the geographical location or language. That's exactly how Media Monks approached the launch of Narco's third season: by aligning dynamic content to three different target audiences across the globe in accordance with their local interests and cultural features , the campaign resulted in almost 1,5 million potential outcomes.
With these insights from experienced PR creatives, you should feel more confident about creating your content in a cost-effective way. We encourage you to sign up to our newsletter and stay in the loop of the future events!