Increasing Your Digital Engagement: Webinar Recap
On May 26th PRLab hosted a webinar about Increasing engagement on digital and social media channels. A handful of leaders specializing in communication who joined us for this discussion shared their significant learnings during this discussion. Here are the key takeaways from our discussion.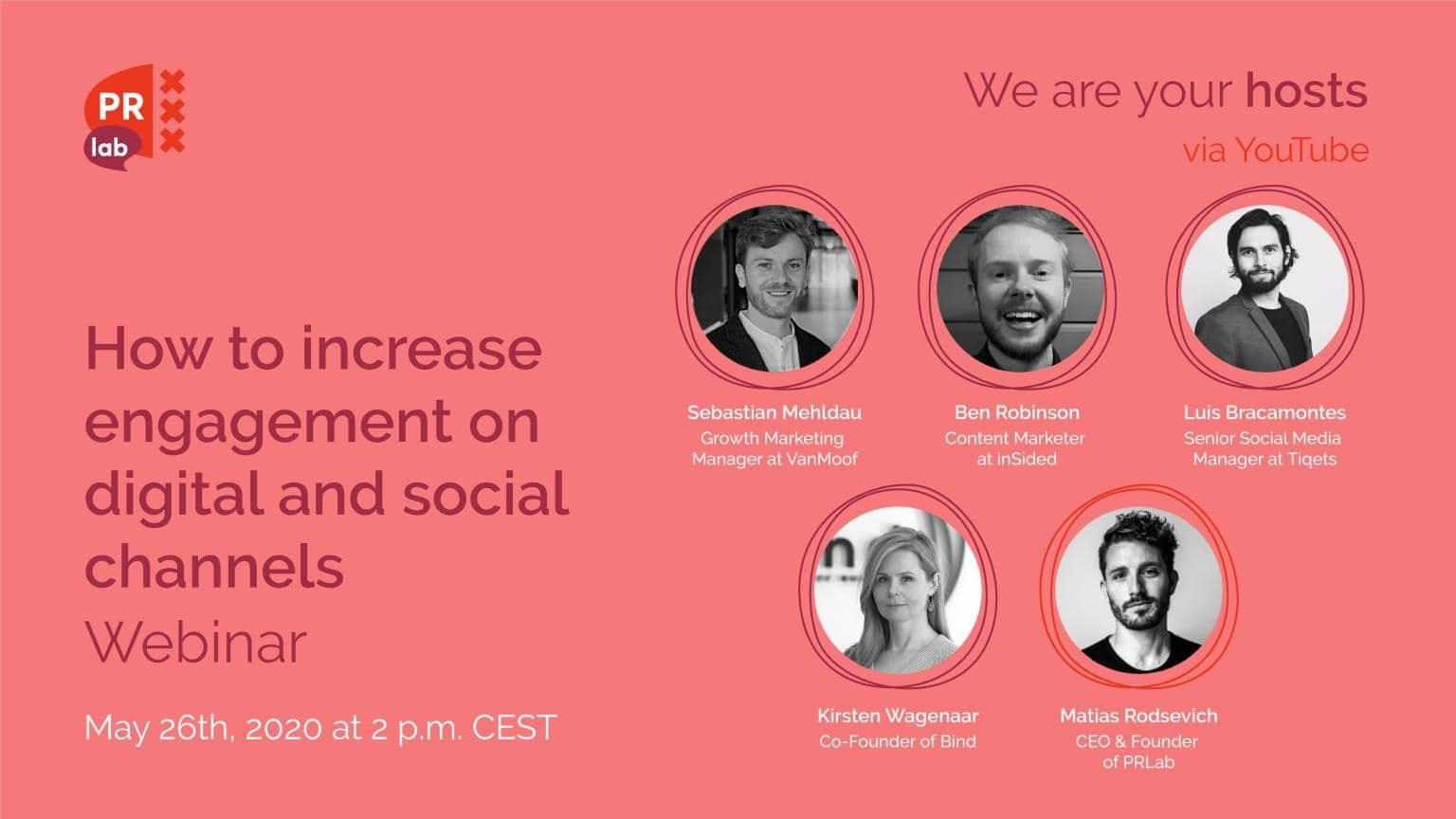 The case for Tiqets​
Senior Social Media Specialist Luis Bracamontes, joined us in our conversation representing Tiqets – a platform that "connects travelers with instant, last-minute, mobile tickets to top museums and attractions all over the world". Since the company is in the travel and culture industry, Tiqets was greatly impacted by the COVID-19 pandemic and the shutdowns of activities that have followed. Museums are the direct stakeholders for Tiqets, and this posed a business challenge at the core of Tiqets business model.
So Tiqets had to address this question: "As a brand, what do you have to say when you have nothing to sell?"
This is a crucial question to reflect upon especially in the wake of COVID-19, regardless of what your company is all about. Understanding "what you stand for" as a brand is at the core of how to make a purposeful impact and create digital content that actually has meaning
The next step for Tiqets involved asking the customers "What do you need on our side?". By opening up clear communication and better understanding the situation customers are in, it sends the message "we are here for you" — something that can be said when there is nothing to sell. This involved getting to the core of what pain points can be addressed.
Tiqets ran a survey and collaborated with a think tank to better understand their community's current behavior and needs. This research led to them discovering the desire to engage with arts and culture even during the pandemic.
"Since our slogan is 'more ways to culture', we decided to put our brand values to test"
The goal was finding a new way to adapt to how people are engaging, which is now from their couches at home. Tiqets' solution was compiling resources for people to experience the arts and virtual museums from home. In addition, they held a VR headset giveaway through user participation creating even more incentive to partake. Tiqets was not only keeping in mind the customers affected, but also artists in the creative industries who are not getting paid. They created a "pop-up exhibition" to promote more user-generated artistic content and boost representation.
Tiqets is a great example of adapting your content strategy to fit customer needs and boost engagement in return. During a time where financial transactions are put on pause, digital outlets that create community can fill that void of human interaction. Tiqets' case study is a great example of how making customers feel a part of the brand, beyond just the customer title, is a crucial component of successful engagement.
The case for VanMoof
Sebastian Mehldau, a Growth Marketing Manager at VanMoof, joined us in conversation about what it was like to do a new product launch during the pandemic. Despite the tricky strategy timing due to the implications of COVID-19, Vanmoof still launched its new electric bike series. With the goal of "building the best E-bikes in the world", their bike release was met with plenty of coverage from media attention, and much can be credited towards their online engagement efforts.
Even though Vanmoof may have had to change their plans to adjust as necessary with the current climate, they kept their eye on the goal of their launch.
As Sebastian puts it, "we had to stay flexible and also hungry".
Sebastian mentioned how it was "pure luck" that "bikes turn out to be high in demand in times like these". On top of that, the majority of their sales are already online, therefore in-person store/business courses were less impactful for a company like VanMoof compared to Tiqets which relied on visiting museums. These two factors contributed to a green light to launch.
Even though Vanmoof bicycles are a physical product that is sold, the brand proved to have extremely high engagement online. From leads to headlines, website users, and launch events, the only actual physical interaction they provided were in-person test rides.
Their engagement work centered around getting the message out that "something new and eclectic is coming". VanMoof began by seeking new CRM contacts and achieving an overall revived "brand life and product life". Through using a combination of display advertising, email marketing, and paid social media advertisements on top of SEO content, VanMoof was able to achieve a thorough advertising campaign and engage with their customers via social media.
VanMoof's online media strategy was represented in a funnel chart (shown below);
These two examples of increasing digital communication during pandemic times demonstrate how truly aligning a company's brand with its mission is so important to attaining successful feedback from its customers, using a bottom-up content approach. No matter if your company's sales have slowed down or picked up, adaptation must be at the core of addressing your customer's needs in order to have successful digital engagement and last as a brand