The True Key To The Power Of Storytelling In PR
During PRLab's last Meetup, our guest speakers discussed the importance of storytelling in PR, giving brilliant examples of how successful a good story can be. Great news - in this article we recalled the brightest moments of the event so you could also dive into the world of storytelling!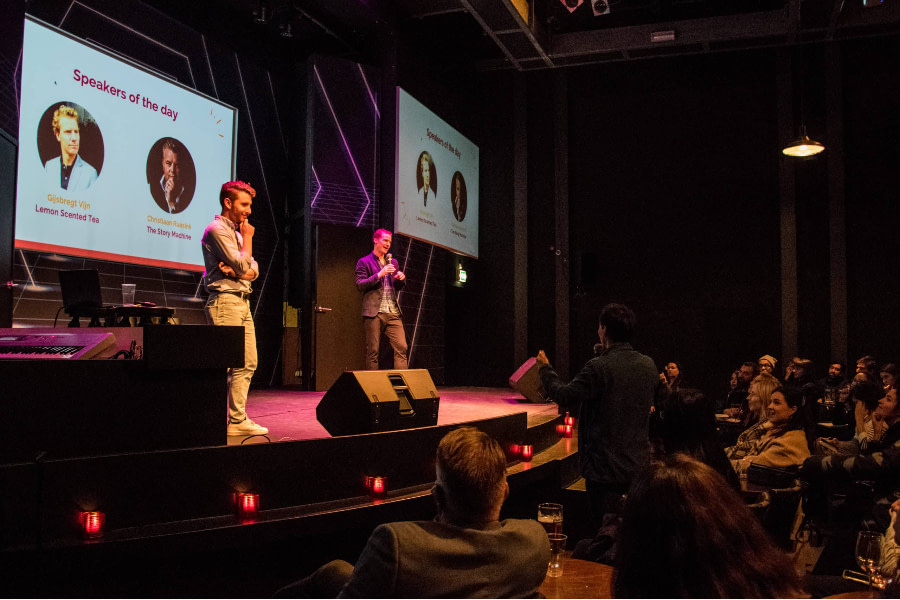 Gijsbregt Vijn from Lemon Scented Tea
The founder and managing director at the creative agency Lemon Scented Tea, Gijsbregt Vijn, let us in on how you can build a band with storytelling. Lemon Scented Tea is a creative marketing and advertising agency in Amsterdam that believes storytelling is the key to success. If you haven't already noticed, stories have a clear and defined structure. They always involve a hero with some sort of conflict. You can implement this storytelling structure into your advertisements or PR efforts to promote emotional engagement. Why does this work so well? Because we are literally wired for stories. This formula tests the reptile brain. Vijn says that "If you want to arouse someone you have to switch on the reptile brain." The reptile brain seeks to survive by reacting to threat.
The question is, who is your brand's hero? You can do this by identifying your archetype. Think about it: Is it the caregiver who longs to keep everyone safe and secure? Or the rebel who fights against society's restrictions? Vijn brought it all to life with Lemon Scented Tea's project for Veloretti "An Amsterdam Bicycle Story." Veloretti wanted to build their brand in other cities, so they turned to the storytelling experts. Veloretti's archetype? The rebel. Everyone loves a well-done grungy storyline. And theirs had a purpose – to liberate people from cars. Their packaging literally has 'F*CK CARS' written across it. In Viloretti's story, the brand is the main character. It features young people on bicycles, combating weather, cars, falls and makes for an identifiable case for young people in Amsterdam.
It's the archetype that makes the storyline cool and sets the tone of voice for your project. So choose yours wisely and then keep it consistent. Your entire brand can be this exciting story that will then become your whole brand's journey.
Here are the steps to follow:
Implement the storytelling structure
Main character
Goal
Means
Adversary
Conflict
Identify the
Why
What
When & where
Find your archetype
The who
Create a Storyline of your Journey
Christiaan Ruesink from The Story Machine
The second speaker of the night was Christiaan Ruesink the man pioneering brand journalism. He is the chief editor at The Story Machine, a company that uses journalism as a starting point for all they do. The goal of brand journalism is to enhance brand credibility as with brand trust comes brand loyalty and a better reputation for you.
Brand journalism isn't made up of stories or ad campaigns and it definitely does not have the goal of selling something. It's about a long term investment. Think about your customers, what do they want to know about you? Tell them.
Christiaan brings it to our attention that everyone has a story. Your brand has a story. And it's worth telling. Don't start with an article, that's not the way to go. Tell your story and people will listen. How did your brand come to be? What were your trials and tribulations? That's identifiable. Knowing your audience is critical when telling your story. Every brand has a valuable database (or at least they should). Go through your data to see what would be compelling to your audience. Once you optimize your story tell the same one every time. This doesn't mean that you can't use different mediums, just stick to your story. Stories have power like no other. They can make people reminisce, dream and truly feel emotions. If you want to captivate your audience and create content that is meaningful to you and them, you should always implement an aspect of storytelling. Whether it be a product or your company's journey tell it in a way that will make people want to listen.
PRLab would like to give a sincere thank you to those who attended The Power of Storytelling Meetup and helping us grow bigger and better every time. We wish you a very happy holiday season and a joyful start to the new year. See you in 2020! Check our meetup page for new events happening in the coming months.